RMI offer a comprehensive package of service support solutions, to suit your specific site needs.

Maintenance visits and consulting to maximize system reliability and uptime.

On-site assessments of your equipment to enhance performance and reliability.
RMI offer both one-off maintenance visits or annual service contracts that can be tailored to suit individual site needs and budget.
We can offer advice on performance management to enable planned, predictive maintenance to ensure system reliability and maximize available uptime.
To maintain the effectiveness and longevity of your pump, we recommend a fully scheduled maintenance plan to keep it working at peak performance.
Our engineers can assist with on-site upgrades or we have conveniently located service centres where your equipment can be maintained off-site. Full strip down reports and detailed quotations with a statement of works to be carried out are issued as standard, giving you complete control of costs at all times.
We generally recommend a full pump and system upgrade at 72 months. Our expert team of engineers can undertake a full on-site assessment of your equipment needs and offer technical recommendations to enhance performance and reliability.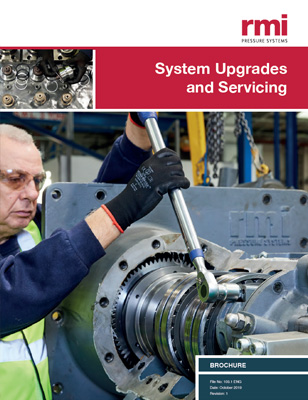 System Upgrades and Servicing Brochure