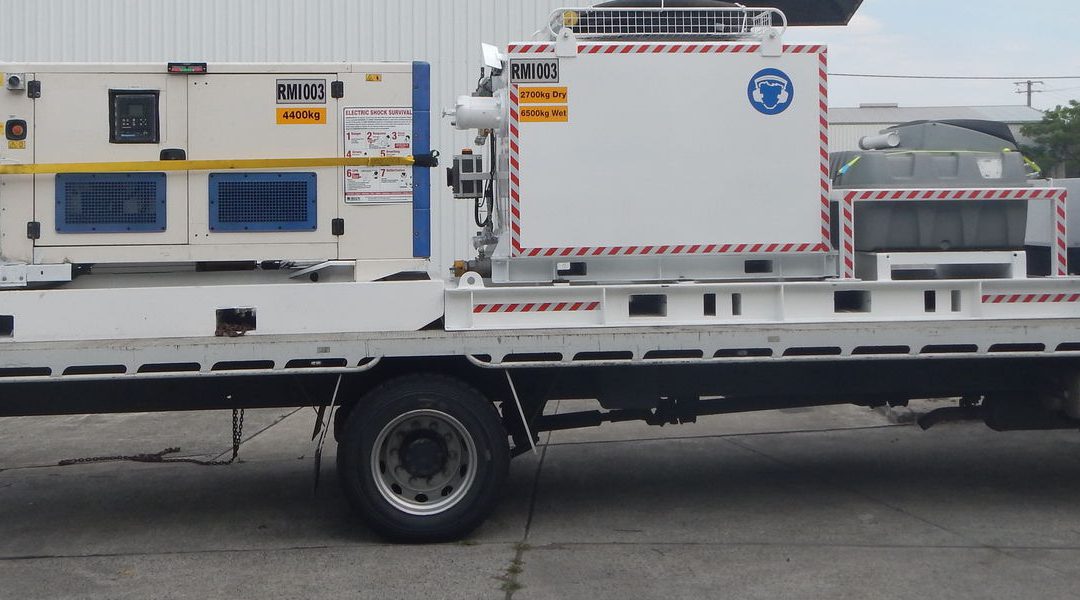 REAL-time data is being used to capture information that optimises the performance of pumping operations in underground mines
RMI Pressure Systems, which specialises in the design, manufacture and application of high-pressure reciprocating pumps, has developed Supervisory Control and Data Acquisition technology that helps improve pump performance.
It can also predict breakdowns by detecting changes in system performance at an early stage.
RMI Australia sales and services director Huw Dodds said pump stations ran in demanding conditions at high pressures could pose risks to workers and the product itself if not carefully monitored and controlled.
He told Australia's Mining Monthly that RMI's SCADA system was an active performance management software that helped ensure long-term efficiency of the pumps' mechanical systems through data-driven, demand-based responses to system requirements.
Data
"The SCADA system constantly monitors the pump and system health, allowing an early response to any operational deviation," Dodds said.
"This remote monitoring also makes for safer working conditions, as workers do not need to be near the units to check on their performance.
"The SCADA system will show any alarm activation from the pump station, which keeps downtime to a minimum as fault finding is simplified.
"The SCADA system will also capture data on the operating conditions of the pump station and log this data for later review. Any anomalies in pressures or temperatures can be identified and attended to in a scheduled review – preventing any failures and loss of production for the mine."
Optimal performance
Dodds said being connected ensured the company could review how the system was operating and make adjustments to suit, thereby increasing uptime, lowering maintenance costs and reducing project risk.
"With the availability of variable speed technology, demand-based control can be leveraged to achieve optimal performance," he said.
"This is an important advance on the older generation of constant or fixed speed drives."
Dodds said the data gathered was primarily to ensure the pump station was performing optimally and identify any problems that could lead to unscheduled stoppages.
"The actual running conditions are therefore monitored against a benchmarked – or 'normal' – data set, and any substantive misalignment between the two sets triggers an alert to the mine engineers," he said.
"This could indicate, for example, that something on the pump station was starting to wear, or even that there was an issue with the system downstream."
Dodds said pump users seldom shared efficiency-related data in the public domain, so it was difficult to be specific about performance improvements in any given application.
"However, there is a strong drive in the sectors we serve to improve efficiencies in energy and water usage – as part of ESG policies and targets – and they select RMI pumps to help them achieve this," he said.
Innovation
Dodds told AMM the product came about through the company's commitment to innovation.
"RMI invests its R&D in value engineering, developing new pumping system applications and technology – including software and more efficient, cost- effective solutions," he said.
"While we do not link our R&D spend to turnover, RMI is always working on new and innovative ways to improve our product range – and we use the latest technologies in this pursuit. Our dedicated team of R&D engineers are continually improving our offerings, by focusing on the applications in which they are used."
Dodds said the feedback loop between RMI's field service technicians and its design engineers ensured products were always being improved to help ensure future versions had higher uptime levels.
"RMI gathers feedback from all of our customers on an ongoing basis and this data is used in strategic planning for product improvements and development," he said.
"This process supports our central aim of ensuring that customers have the best experience of our products. In this way, customers drive our design improvements, which often involves introducing new technologies.
"We also review our previous builds to see what continues to work well, what can be changed and what, if any, new design elements can be carried over into future system builds."
Expansion
RMI's S Series range of pumps are already operating in Australia as the main emulsion pumps on a pump station.
There are two models in RMI's S Series range – the Trimax three-plunger pumps and the Quinmax five-plunger pumps.
"The Trimax system has three running pumps and the Quinmax system only two – and the choice depends on the duty," Dodds said.
"An important consideration may also be the electrical supply. Where this supply is limited, then multiple Trimax pumps would make more sense, as they use a smaller motor than the Quinmax pump."
Dodds said company might seek further opportunities to expand in Australia.
"Traditionally, our focus has been on building and servicing longwall pump stations and salvage units for the operation and relocation of roof supports used in underground coal mines from our manufacturing facility in Cardiff, New South Wales," he said.
"While we will continue this work, we are also looking at other mining applications that use either high-pressure water such as hydro borehole mining or hydraulically driven applications such as paste backfill."